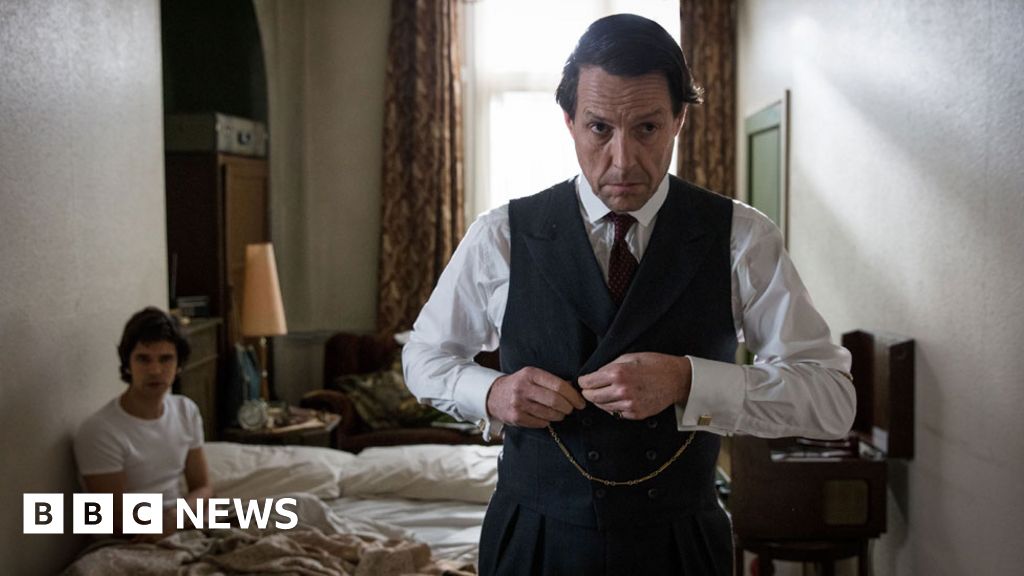 The opening episode of A Very English Scandal – documenting the rise and fall of politician Jeremy Thorpe – has received broad praise from critics.
The BBC mini-series stars Hugh Grant in "revelatory" form as the Liberal Democrat leader, with Ben Whishaw as his doomed ex-lover Norman Scott.
Viewers joked that the Paddington co-stars turn as lovers meant the family films had taken an "unexpected turn".
Here is a round-up of reaction to the "funny" yet "chilling" debut episode.
Praise for Grant
Ahead of broadcast of the Russell T Davies adaptation, much had been made of the decision to cast Grant – previously typecast as a romcom actor – in the role of Thorpe.
The Guardian suggests the gamble has paid off with Grant "never less than wholly convincing and compelling" and "clearly having the time of his actorly life," writes Lucy Mangan.
"Everything (bar the stutter) that made him a romcom star is still there, but now there is everything else too," she says.
"He handles the comic scenes and moments, which are sprinkled liberally throughout, with the deftness you'd expect, but never loses sight of the underlying nervousness, fear and venality underlying the politician's moves," Mangan continues.
Grant is aided by Davies' dialogue, adapted from John Preston's novel of the same name, says Digital Spy – capturing the "tragedy and farce" of the scandal prior to the partial legalisation of homosexuality in 1967.
---
What was the Thorpe scandal?
A gay affair, a bungled plot and a dead dog on Exmoor were the ingredients of what came to be dubbed "the trial of the century".
Thorpe – leader of the Liberal Party – became the first British politician to be tried for conspiracy and incitement to murder – charged over an assassination plot against his secret lover Norman Scott.
However, it was a Great Dane called Rinka that ended up being shot on Exmoor in October 1975, by a man whom Scott believed had been sent to kill him.
A police investigation into the Exmoor incident led to Thorpe and three associates being charged.
Thorpe was acquitted but his career never recovered. He died in 2014, aged 85, after a long battle with Parkinson's.
---
The Telegraph is similarly effusive calling Hugh Grant "both charming and bone-chilling in this brilliant take on the Thorpe affair".
The paper's Jasper Rees argues Grant's portrayal embodies "everything that is perfectly loathsome about some Establishment figures: entitlement and charm masking the ruthless guile of a predator."
The depiction of Thorpe's double-life is enabled with "spiffing joie de vivre" through Alex Jenning's performance as fellow MP Peter Bessell – the confidant turned witness in Thorpe's eventual trial for conspiracy to murder Scott.
And while The Times' review notes the real-life Scott, now 78, reportedly "hates" the way Whishaw portrays him as a "mincing weakling," The Independent sees Whishaw's take as the puppy-eyed model to be "pitifully believable".
Paddington's 'very dark turn'
However, critical response to Whishaw's performance on social media quickly became dwarfed by comparisons to his role in Paddington.
The 37-year-old voiced the much-loved bear in the 2014 reboot and last year's sequel, in which Grant, 57, played villain Phoenix Buchanan.
As it debuted on Sunday night, viewers admitted it was hard hearing Paddington's voice, particularly during some of the more intimate scenes between the pair.
"I can't watch Paddington being seduced by Phoenix Buchanan. I just can't," said one person on Twitter.
"Can't help but watch #averyenglishscandal and think it's just Paddington 2 that's taken a very dark turn…" tweeted another.
One viewer joked: "Blimey, Paddington 3 is a real departure from the last one."
Award success?
Amusement aside, the positive response led viewers and critics to tip the show as an early Bafta contender.
Some said Grant had been born to play Thorpe and many called for awards for both actors:
One impressed viewer tweeted: "Next years NTAs and BAFTA's should just be given to the entire cast and crew of #AVeryEnglishScandal now."
Another posted: "Hey BAFTA, clear the decks – #AVeryEnglishScandal is ON FIRE….."
A Very English Scandal continues Sunday at 9pm on BBC One.
---
Follow us on Facebook, on Twitter @BBCNewsEnts, or on Instagram at bbcnewsents. If you have a story suggestion email entertainment.news@bbc.co.uk.