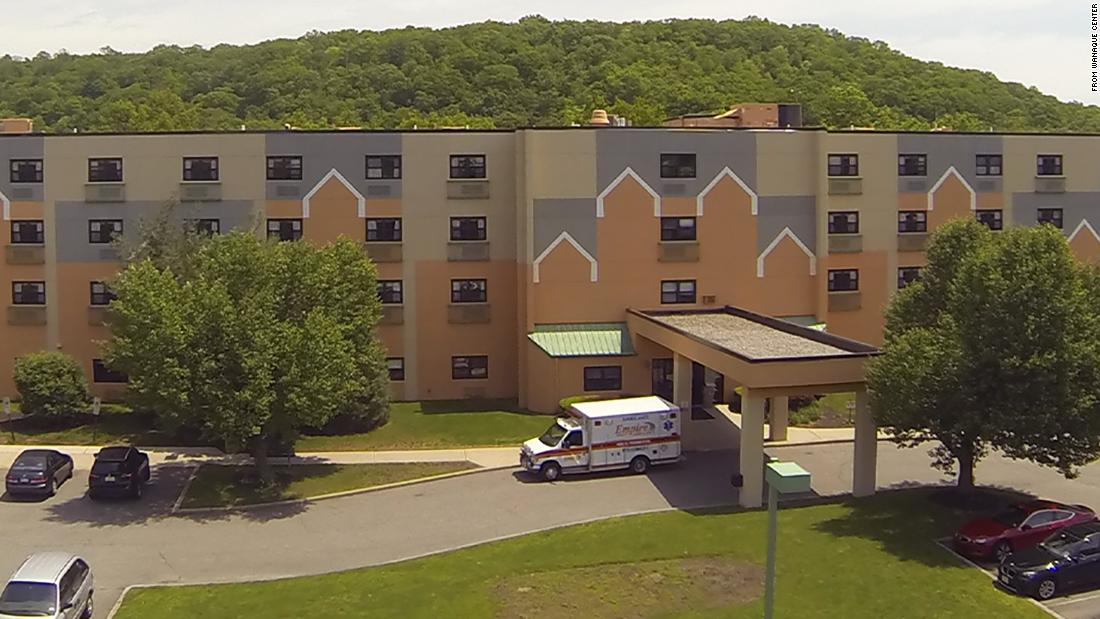 The "medically fragile child with respiratory illness" died at the Wanaque Center for Nursing and Rehabilitation in Haskell on Friday afternoon, the state health department said in a statement. It was awaiting laboratory confirmation of the presence of adenoviruses, which are known to persist on unclean surfaces and medical instruments and may not be eliminated by common disinfectants.
The viruses rarely cause severe illness in healthy people. But those with weakened immune systems have a higher risk for severe disease and may remain infectious long after they recover, the US Centers for Disease Control and Prevention says. They are common in places with large groups of children, such as child-care settings, schools and summer camps.
There have been 23 confirmed adenovirus cases at Wanaque, including the seven child deaths. The confirmed cases became ill between September 26 and October 22.
The health department said this week the facility had been "instructed not to admit any new patients until the outbreak ends and they are in full compliance."
The timing of the deaths is not clear. The health department was notified of respiratory illness at the center on October 9. Wanaque sent parents of children at the facility letters about the infection on October 19, according to the health department.
On Tuesday the New Jersey Department of Health announced the death of six pediatric residents at the center and the infection of 12 additional residents. Wednesday the department announced an additional child death.
The department said it is an active outbreak investigation and lab tests could confirm additional cases.
A team at the facility on Sunday found minor hand-washing deficiencies.
"The Department continues to work very closely with the facility to ensure that all infection control measures are being followed," the Wanaque facility said in a statement Wednesday.
The children's ages are not being released to protect patient privacy, said Nicole Kirgan, a health department spokeswoman. They ranged in age "from a toddler through young adults, but most are under 18."
The outbreak, caused by adenovirus type 7, "is affecting medically fragile children with severely compromised immune systems. The strain has been particularly associated with disease in communal living arrangements and can be more severe," according to the health department.
In a statement, the facility said it "promptly notified all appropriate government agencies when the virus was initially identified."
"The Wanaque Center continues to fully cooperate with these agencies and has sought out their medical guidance with respect to the virus," the facility said. "As a result, facility staff have diligently implemented all available infection control and prevention measures in order to protect the health and safety of the Wanaque Center's residents."
The union said it represents the 70 nurses that work at Wanaque.
'Environmentally hardy'
In rare cases among people with weakened immune systems, the viruses may cause pneumonia or inflammation of the brain and the tissues around it. In extremely unusual cases, an adenovirus infection can result in death.
Most adenovirus infections are mild, with symptoms usually lasting about 10 days, according to the CDC. And for most patients, only home remedies and over-the-counter medicines to relieve symptoms are needed.
The viruses, unlike the flu, are not seasonal and can cause illness throughout the year. And while a vaccine exists, it's available only to military recruits.
The viruses can "stay stable at room temperature for weeks" on unclean surfaces, according to Dr. Alex Valsamakis, director of Clinical Virology and Molecular Microbiology and a professor of pathology at the Johns Hopkins University School of Medicine.
She described this family of viruses as "environmentally hardy."
The infections "usually occur sporadically — here a case, there a case — so outbreaks are pretty rare," Schaffner said.
From 2003 through 2016, the two most commonly reported adenovirus types in the US were types 2 and 3, though four additional types — 1, 4, 7 and 14 — also caused illness, according to a 2017 report from the National Center for Immunization and Respiratory Disease of the CDC. These six types accounted for 85.5% of 1,497 laboratory-confirmed specimens reported during the time period.
This small number of cases is believed to be an under-representation of the actual number, since most people who become sick do not go to a doctor, or their doctors do not test for this virus.
And the viruses are still difficult to diagnose since they're not typically included in a panel of tests used to identify specific viruses, according to Schaffner. He said this is changing, and for that reason, he believes the number of cases will rise.
Still, Schaffner doesn't think people need to be worried about adenoviruses.
"They cause principally a whole bunch of minor troublesome infections spread by children, often from children to adults," he said. "But they're not nearly as serious as influenza."
CNN's Ray Sanchez, Michael Nedelman, Nadia Kounang and Liv Kiely contributed to this report.