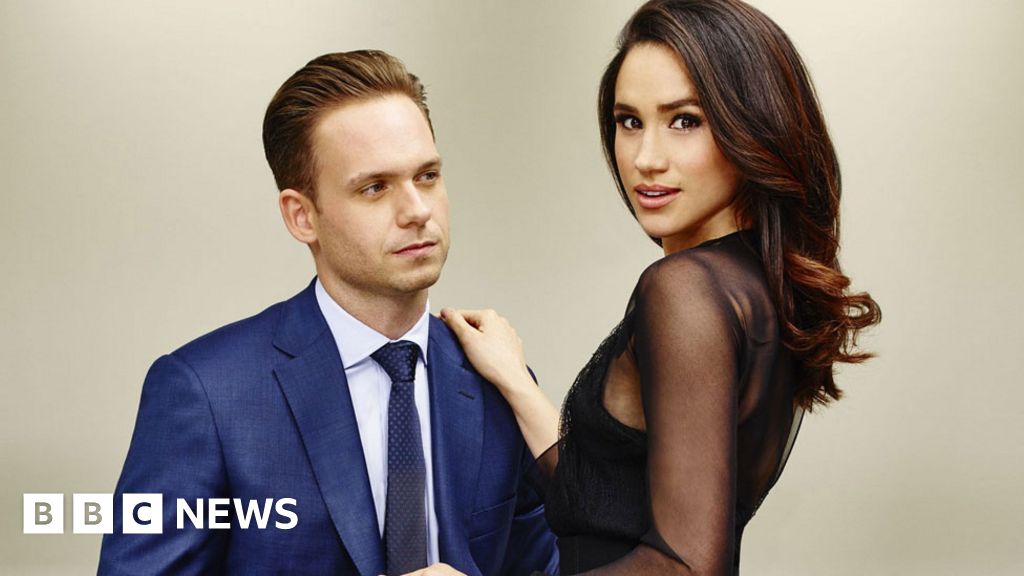 Want to see Meghan Markle tie the knot? Well, you'll have to wait until 19 May when she and Prince Harry get married at Windsor Castle.
If you want a sneak preview, though, you can watch her farewell episode on US legal drama Suits, which ends with her character getting hitched to her on-screen partner.
The final episode of Suits' seventh season aired in the US on Wednesday and can now be seen in the UK on Netflix.
Here's how the USA Network trailed the season finale.
Here are five stand-out moments from the episode, which marked not only Markle's departure from the show but also that of her co-star, Patrick J Adams.
Do not read on if you do not want to know what happens in the Suits season finale.
1) Moving on up
Suits fans have already seen Mike Ross (Adams) pop the question to girlfriend Rachel Zane (Markle). But events elsewhere in the episode prompt a sudden decision to hold the wedding immediately.
"We can make that happen," insists Mike. "Whoever can make it, makes it. Whoever can't, can't.
"I have wanted to marry you from the second I met you and I am tired of waiting," he tells Rachel as she sits in bed with her laptop.
"I can't believe it! It's so exciting," she replies with tears in her eyes. The music swells as the couple kiss.
2) The Miracle Worker
Back in the office, Rachel looks for help from her red-headed colleague Donna (Sarah Rafferty).
"Mike and I decided to move up the wedding and I need a miracle worker to make it happen," she tells her associate.
"Then I just have three questions for you," Donna replies. "Band or DJ, what kind of food, and rustic chic or glam all the way?"
"If I thought you didn't already have the answers to all those questions I wouldn't have come to you in the first place," Rachel replies tearfully.
The music swells as the friends embrace.
3) Declarations of Love
The wedding day arrives, and as we get our first glimpse of Rachel's gown – a simple white frock with a beaded top and a thin black waistband – Markle's voice is heard.
"I know that I fought it at first, but now Mike, I can't imagine living alongside anyone else for the rest of my life," we hear in voiceover.
"If I've learned one thing, it's that we never know what the future holds," says Mike as he slips a ring on her finger.
"You are the strongest man I have ever met and you make me stronger," Rachel responds. "You are the husband I have always wanted. And I can't wait to begin our adventure together."
Tears rise in Mike's eyes as the music – All of Me by John Legend – swells.
4) The Vows
"Do you, Michael James Ross, take Rachel Elizabeth Zane to be your lawfully wedded wife?" says a young priest bearing an uncanny resemblance to Wayne Rooney. "I do," he replies.
"And do you, Rachel, take Michael to be your lawfully wedded husband?" "I do," she answers.
"Then I now pronounce you man and wife," the priest declares as the couple kiss and embrace.
The congregation breaks into applause as the bride and groom walk in slow motion down the aisle. The music swells.
Watch the magical moment here.
5) Let's dance
At the reception afterwards, Mike tells his law firm partner Harvey (Gabriel Macht) that he and Rachel are moving to Seattle.
"We decided to go for it," he says, revealing they will be running an ethically driven firm "that only takes class action cases against Fortune 500 companies."
Harvey holds out his hand and gets a hug in return. Both men have tears in their eyes.
The last we see of Rachel, and Meghan, is her smiling and laughing with Adams on the dance floor. The music is swell.
Follow us on Facebook, on Twitter @BBCNewsEnts, or on Instagram at bbcnewsents. If you have a story suggestion email entertainment.news@bbc.co.uk.