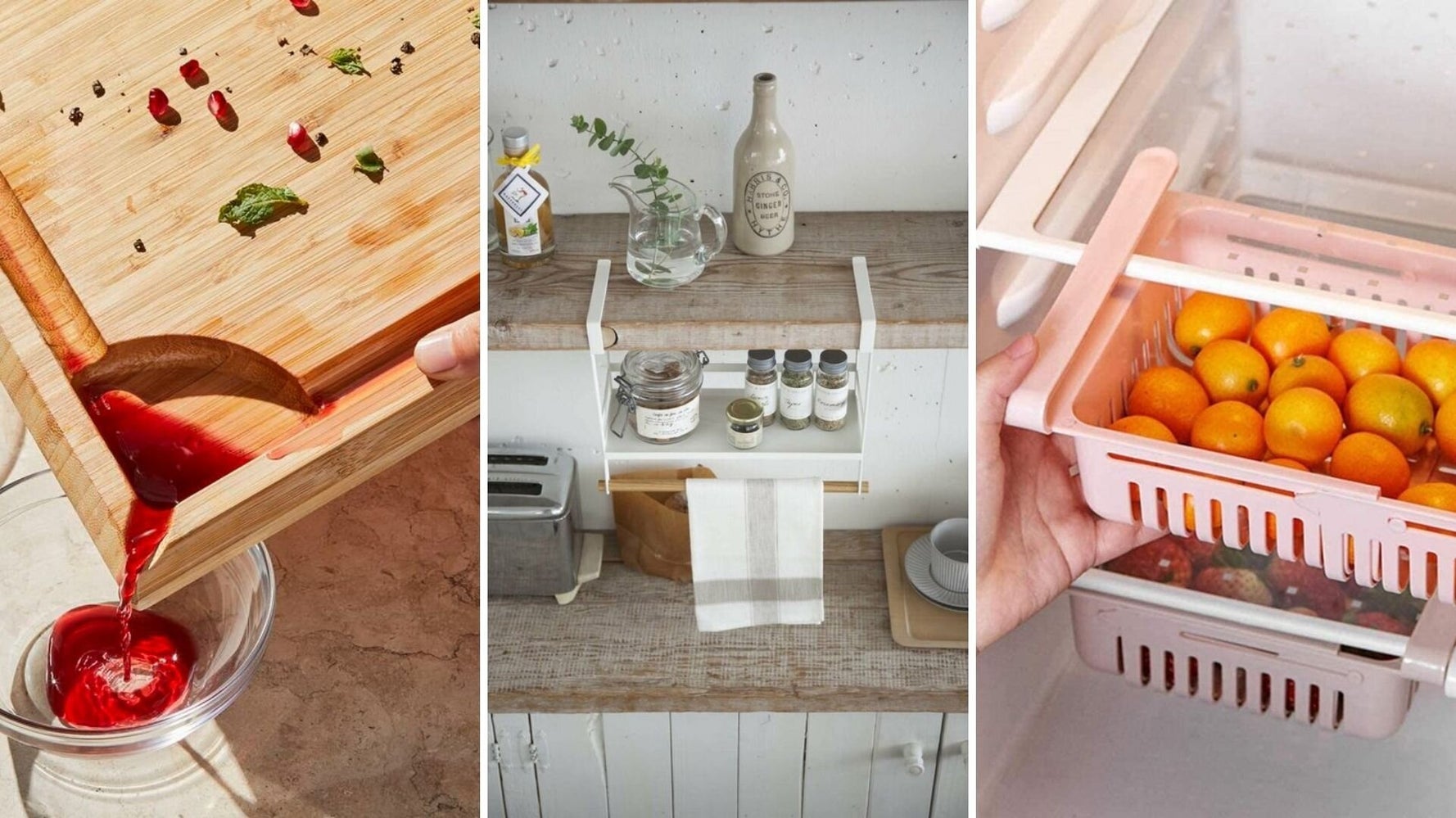 HuffPost may receive a share from purchases made via links on this page. Prices and availability subject to change.
Rather than suffer through these problems, there are affordable ways to make your kitchen work harder and smarter for you.
To help, we've pulled together a list of 20 damn-near brilliant kitchen products to help with the annoyances we all deal with in the kitchen. Best of all, most of these products are under $50.
To declutter your Tupperware drawer, these silicone stretch lids
Amazon
A cutting board that does the hard stuff for you
Food52
Silicone food savers for half-used produce
Amazon
One pan to rule them all
Our Place
For all of the loose batteries in your kitchen drawers
Amazon
A space-saving paper towel holder and spice organizer
Amazon
An adjustable rolling pin for perfectly even dough
Food52
An undershelf basket for easy-to-find storage
Wayfair
A stylish way to organize your fridge
Amazon
An apron that includes potholders and a handy baking conversion chart
Food52
A slim utility cart for tight spaces between appliances
Wayfair
Countertop storage that isn't an eyesore
Wayfair
Mixing bowls that make pouring easy
Food52
A gadget to organize all your cleaning tools
Amazon
A self-heating ceramic mug, for coffee that never gets cold
Food52
For detailed cleaning, this weird gel
Amazon
A corner countertop organizer
Amazon
An over-the-sink drying rack
Food52
A magnetic three-pocket organizer for catch-all things
Wayfair
A countertop pot rack for storing cookware
Wayfair
");
if ( "replace" === "insertBefore" || "replace" === "replace" ) {
$yahooDiv.insertBefore(".js-bottom-most-shared .card.recirc__item:eq(1)");
if ( "replace" === "replace" ) {
window.__yahooFlurry.addToCleanup("50b9b9b4-1f4f-4c41-94e8-dc7e6dd30814", "polar-gemini-most-shared", $(".js-bottom-most-shared .card.recirc__item:eq(1)")[0].outerHTML);
$(".js-bottom-most-shared .card.recirc__item:eq(1)").remove();
}
} else {
$yahooDiv.insertAfter(".js-bottom-most-shared .card.recirc__item:eq(1)");
}
window.__yahooFlurry.ready("50b9b9b4-1f4f-4c41-94e8-dc7e6dd30814");
});

");
if ( "replace" === "insertBefore" || "replace" === "replace" ) {
$yahooDiv.insertBefore(".js-bottom-trending .card.recirc__item:eq(1)");
if ( "replace" === "replace" ) {
window.__yahooFlurry.addToCleanup("2e63d6ca-115c-4d45-8b46-bdb10c4f0a97", "polar-gemini-whats-hot-2", $(".js-bottom-trending .card.recirc__item:eq(1)")[0].outerHTML);
$(".js-bottom-trending .card.recirc__item:eq(1)").remove();
}
} else {
$yahooDiv.insertAfter(".js-bottom-trending .card.recirc__item:eq(1)");
}
window.__yahooFlurry.ready("2e63d6ca-115c-4d45-8b46-bdb10c4f0a97");
});

http://platform.twitter.com/widgets.js