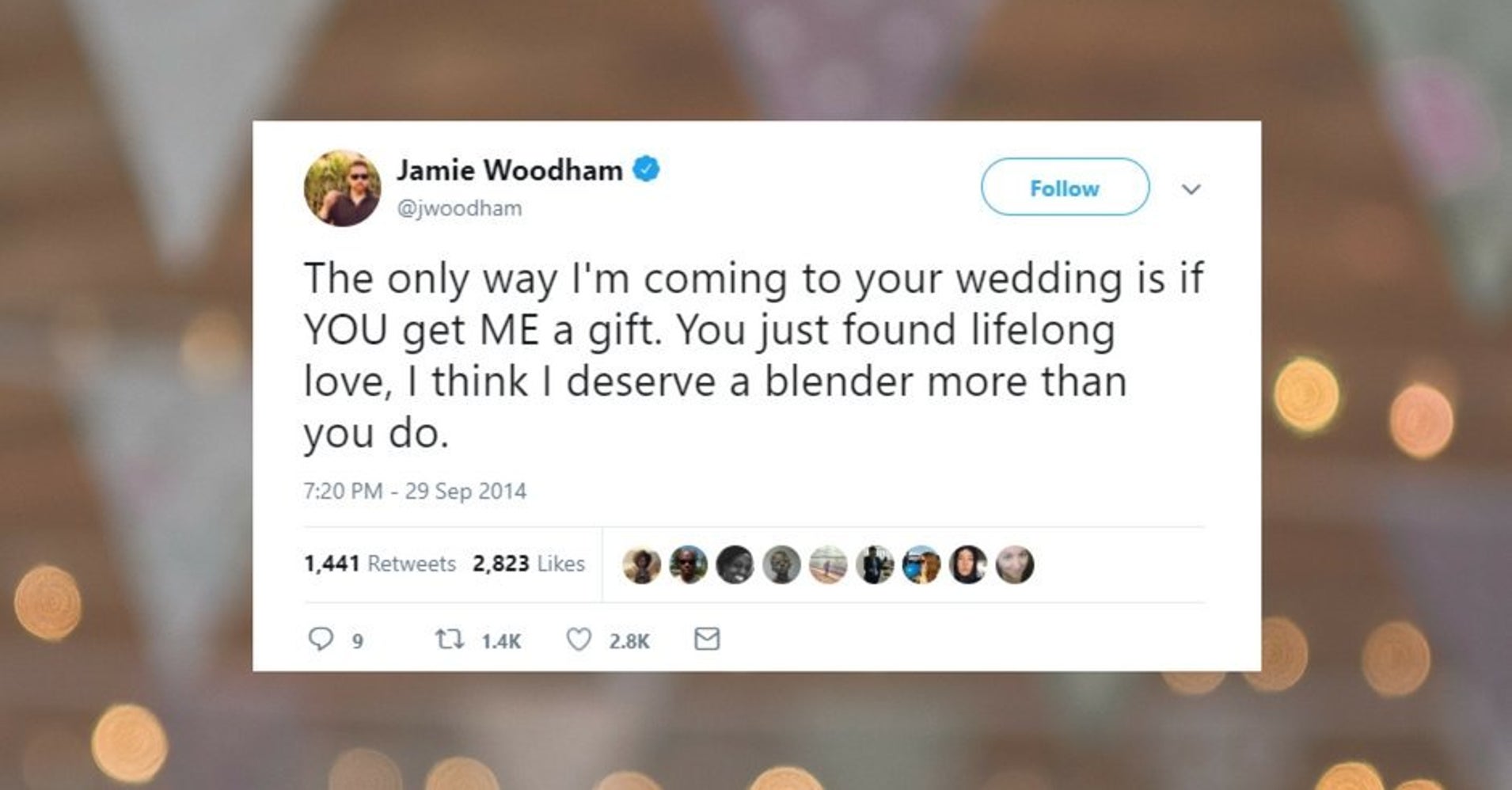 At some point, you'll probably be faced with a social life conundrum: Risk losing some of your friendships or pony up some major cash to attend each of your pals' weddings. 
"I shudder when the invite arrives," Childs told The Sun. "I wish I could say no — but how do you tell your friends you just don't think their wedding is within your budget?"
Worse yet, how do you say no when they ask you to be in the wedding and you know you can't afford it? A national survey of more than 2,000 people by website Bankrate.com found that members of the wedding party spend an average of $728 on gifts, travel, attire and assorted wedding-related costs. Lucky bridesmaids and groomsmen in the Northeast spend even more: an average of $1,070 for the shower, the bachelor or bachelorette party and the big day. 
Below, we gathered 19 tweets that capture the pain of shelling out for someone else's wedding. You have to laugh about it or else you might just have to cry into your floor-length chiffon dress. 
Being in my wedding party will cost hundreds of dollars, but don't worry. The outfit I'm forcing you to wear is hideous.

— River Clegg (@RiverClegg) May 7, 2015

just booked my flight for wedding #7 this year… when i die broke, i hope y'all lived happily ever after

— aubrey potter darger (@aubreyapproved) September 25, 2013

When a friend asks you to be a bridesmaid, she's really saying "Give me $1000 & get ready to look pregnant in an empire waist dress."

— Jade Tolbert (@jadelizroper) February 26, 2014

Every wedding season, I ask myself the same question: "Why should someone's love cost me, a happily cash-strapped singleton, my money?"

— Meghan O'Keefe (@megsokay) May 15, 2017

Feeling like a real adult as I look for the cheapest thing left on my friends wedding registry ?

— Shay? (@Shayquaza) April 27, 2018

The only way I'm coming to your wedding is if YOU get ME a gift. You just found lifelong love, I think I deserve a blender more than you do.

— Jamie Woodham (@jwoodham) September 30, 2014

"UR WEDDING IS GOING 2 COST ME SO MUCH $$$$$$ IN FLIGHTS & HOTELS PLS DIE ALONE INSTEAD" OKAY RSVP?

— Chelsea Peretti (@chelseaperetti) April 23, 2013

I'm hereby trademarking the phrase "bridesmaid bankruptcy." #neveragain

— Leigh Munsil (@leighmunsil) May 9, 2011

If you get divorced within 5 years of marriage I fully expect you to refund me the cost of my flight to your wedding.

— Dan Helfers (@danhelfers) June 8, 2016

What's the proper wedding registry gifting etiquette? People keep listing $300 blenders better not be upset when the Target trash can is the only thing I can afford. I'll send a selfie too so you can tape it to the bin and remember your poor trashy friend everyday ??‍♀️

— Katie Stengel (@ksteng12) April 24, 2018

i forgot how expensive wedding season was i just dropped $2000 please don't get married or unfriend me before you do thank you

— joseph™ aka store brand ryan gosling (@maloonds) February 29, 2016

Tallying the cost of attending a friend's wedding is a rollercoaster between ? and ? and ? again.

— Stephen Mays (@stephemays) March 7, 2017

I always forget how much designer shoes cost until I'm like "I need silver heels for my friend's wedding I'll just browse Jimmy ChOLOLOL NM"

— Brittany Drehobl (@brittdrehobl) December 19, 2016

"Prom season is so expensive!" Wait til it turns to wedding season and you need to get flights, hotels and a gift for 4 different events.

— Richard Dawson (@I_want2b_Rich) March 23, 2017

Don't invite me to your wedding if it is gonna cost me as much as a used car. I don't like you that much.

— ?️‍?Momo Yubari?️‍? (@TokenPsycho) November 11, 2016

You owe me reimbursement for my flight if I fly to Miami and there is no alcohol at your wedding.

— Angela (@TheKitchenista) April 20, 2014