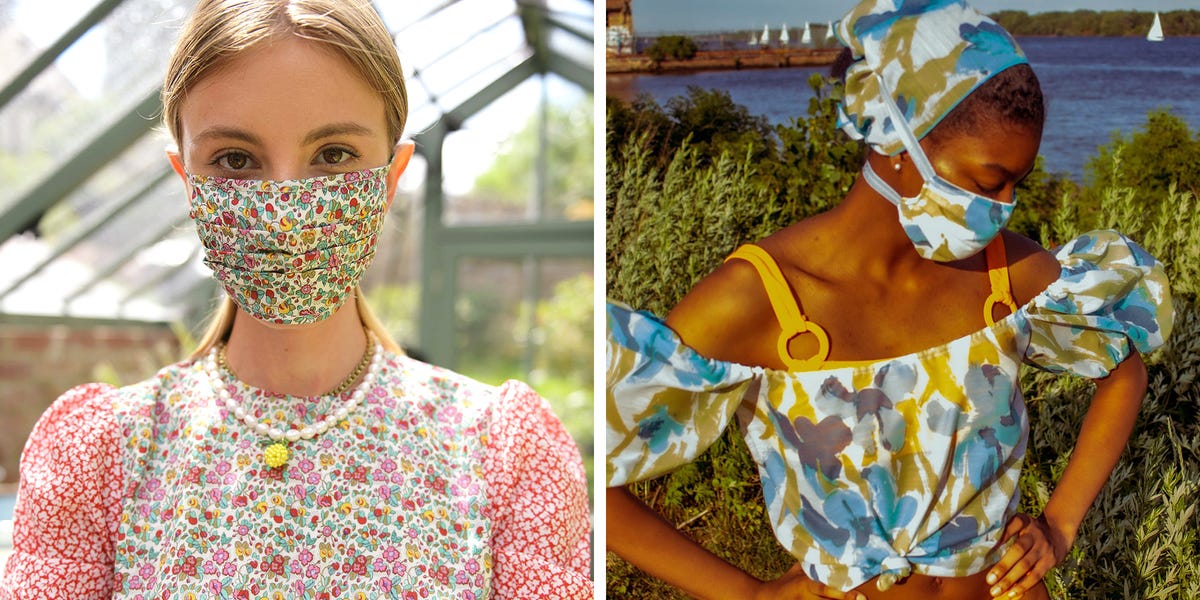 There are four phases of mask wearing. The first happened at the beginning of quarantine, where you scrambled to DIY a mask using a dusty sewing machine or fumbled with a bandana that never stayed in place. The second phase occurred when you reluctantly bought a mask from a big box store in bulk because you realized you probably shouldn't wear the same one for multiple sweaty days in a row. The third stage is when you finally caved and started experimenting with fun prints, or hell, even embellishments. The final frontier is this: matching your mask. The face covering has fully entered the accessories category.
Since many brands started making masks using leftover fabrics, you can find styles that complement headscarves, scrunchies, tops, dresses, and even bikinis. Think of it as the adult version of babies who always match ridiculously oversized bows to their onesies. It might feel a little extra to have a gingham scarf and mask combo, but hell, we're living through a pandemic. We might as well look cute while dutifully following CDC guidelines. Read on to shop 11 designers who are coordinating your next virus-safe look, ahead.
Advertisement – Continue Reading Below
1
Matching Face Mask and Headscarf
Room Shop Vintage
roomshopvintage.com
$30.00
Room Shop Vintage made an Instagram name for itself by making oversized scrunchies last year, but it's their current coronavirus cocktail that has everyone smashing the like button. They are currently offering matching headscarves, scrunchies and tops. 
2
Joal Face Mask
Diarra Blu
diarrablu.com
$15.00
Diarrablu took some of its collections' unused fabrics and whipped up beautiful masks in unexpected prints. Look to this brand if you're not really into ditzy florals. 
3
Cloud Mask
Phlemuns
phlemuns.com
$29.00
Got your head in the clouds and a body in sweatpants?  Phlemuns' printed sets are a quarantine dream.  
4
Solid/Checked 2-Piece Adjustable Cloth Face Masks, Scrunchie, & Sachet Set
Triple down your efforts and match your picnic blanket to this affordable set. It even comes with a little bag so you'll never lose your mask again (maybe). 
5
Twiggy Jane Maxi Dress
The Story Of
thestoryof.com.au
A$200.00
The Story Of doesn't sell its masks online, so feel free to slide into their DMs to request a zebra-printed face covering to match your new favorite dress. 
6
Cherry Face Mask
Pop your mask-matching cherry with HVN. This print also comes in a flattering bikini, because your beach days should be socially distanced and cute. 
7
Hope Face Mask
Rixo makes some of the best printed dresses around, so it only makes sense that its masks are just as good. 
8
Matching mask and headband
Afrikea
afrikrea.com
€32.60
Traditional prints abound at Afrikea, and that comes in no short supply with its multiple mask-and-headwear combos. 
9
Leopard Face Mask and Headband
Lele Sedaoughi
lelesadoughi.com
$35.00
Busy Phillips is a fan of Lele Sedaoughi's bundles, and soon you will be one too. 
10
Reversible Face Mask and Bucket Hat
ChicNyler
etsy.com
$16.00
Leave it to Etsy creatives to give you some grid-worthy masks. This adjustable style lets you opt-in to a reversible bucket hat. 
11
Face Mask
The Kit
thekit.com
$40.00
If you're in search of a printed mask unlike any other, try The Kit. They have beach prints, digital florals, even a painterly mountainside scene, with a wide selection of equally chic clothes to match. 
This content is created and maintained by a third party, and imported onto this page to help users provide their email addresses. You may be able to find more information about this and similar content at piano.io
This commenting section is created and maintained by a third party, and imported onto this page. You may be able to find more information on their web site.
Advertisement – Continue Reading Below