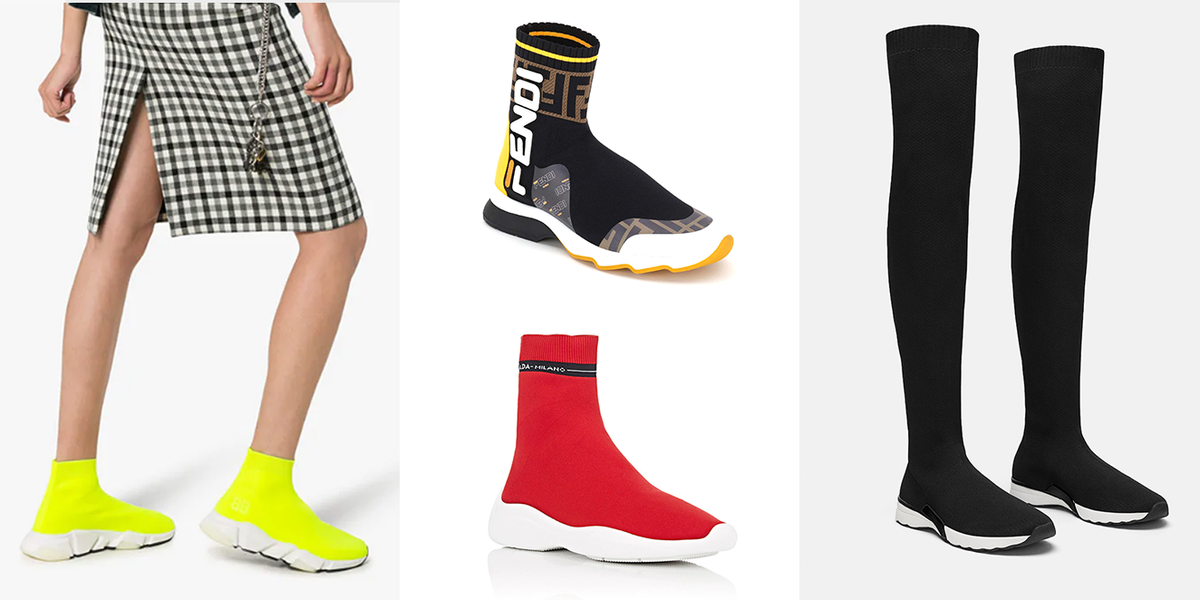 What started off as an unusual breed of shoe—with its stretch-knit, breathable fabric made to resemble an actual sock— has quickly become fashion's answer to footwear woes and achieved a full-blown cult following ever since Balenciaga dropped its own iteration in December 2016. But it isn't just Instagram It girls and fashion's front row who love the hybrid shoe. Cardi B even immortalized Balenciaga's most in-demand sneaker (next to the chunky Triple-S) in her song "I Like It."
Thankfully, the sock-like shoe isn't only served up by high-fashion labels like Balenciaga or Vetements. Nike and Reebok have also hopped on the trend. Shop some of our favorites ahead.
1
Speed Logo-Intarsia Stretch-Knit High-Top Sneakers
Balenciaga
net-a-porter.com
$875.00
You can never go wrong with the OG Balenciaga sock sneakers. This iteration of the brand's iconic silhouette is sculpted with a thicker ankle cuff for added comfort and soft memory foam fabric that envelopes around your foot. 
Advertisement – Continue Reading Below
2
Tenko Ankle High Top Sock Sneaker
Jeffery Campbell
nordstrom.com
$144.95
You get the best of both worlds with this bad boy, which combines both the chunky sole and sock-fit footwear trend.
Advertisement – Continue Reading Below
3
x FILA Mania Logo Sock High Top Sneaker
Fendi
nordstrom.com
$890.00
F is for fire emoji, because that's exactly what your friends will send you when you drop a picture of your new Fendi x Fila logo sneakers in the group chat. You're welcome. 
Advertisement – Continue Reading Below
4
Over-the-Knee- Fabric Sneakers
Zara
zara.com
$89.90
Lampshading, but make it cozy. Swap out your high-steppers for these over-the-knee sneakers that feel like thick, cozy thigh-high socks but with a sole. Doesn't get much better than that! 
Advertisement – Continue Reading Below
5
Prada Women's Logo Knit Sock Sneakers
Prada
barneys.com
$690.00
These fire red Prada sneakers are designed with a flexible rubber sole and tight, ribbed uppers. Every little step you take is as comfortable as walking around the house in your favorite socks. 
Advertisement – Continue Reading Below
6
Reebok Women's Run_R Sock Sneakers
Reebok
barneys.com
$250.00
The off-white, cut-out, chunky sole takes this runner from simple to futuristic—but won't break the bank.  
Advertisement – Continue Reading Below
7
Nike Free RN Motion Flyknit 2018 Women's Running Shoe
Nike
nike.com
$150.00
Just because you're an athlete doesn't mean your foot doesn't need some TLC. Nike's game-changing Flyknit fabric is strategically placed to help stabilize your foot and keep it comfortable during any physical activity.  
Advertisement – Continue Reading Below
8
Glittered Sock Sneakers
Mm6 Maison Margiela
farfetch.com
$480.00
A fun, teal colorway coated in glitter for those who want to stand out from the crowd. 
Advertisement – Continue Reading Below
9
Yellow Speed Neon Knitted Sneakers
Balenciaga
farfetch.com
$750.00
Alexa, play "Walking on Sunshine." 
Advertisement – Continue Reading Below